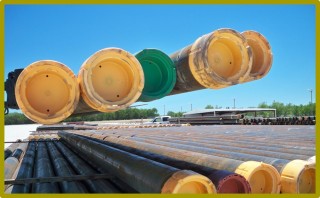 Texas company announces new ERW pipe mill
HOUSTON, Jan. 14, 2021 /PRNewswire/ -- Tex-Isle Inc. (Tex-Isle), an industry leading provider of OCTG, Line Pipe, and associated services, today announced plans to open a new steel tubular mill located in Robstown, Texas in the 3rd quarter of 2021. In 2009 Tex-Isle embarked on a vertical integration initiative, which, over the past decade has included the creation of two new divisions: Tex-Isle Coating in George West, TX and Tex-Isle Processing in Robstown, TX. The greenfield project will be adjacent to the company's current OCTG heat treating, inspection, and threading facility in Robstown. When complete, the mill will build on Tex-Isle's Asset Based Distribution® model and provide feedstock to its other facilities. The mill will add to Tex-Isle's growing footprint in the coastal bend area and bring Tex-Isle's total capital investment in the region to nearly $100 million.
Chris Kayem, Tex-Isle's President, discussing the project. "A pipe mill is the natural progression of our long-term strategic plan which started over a decade ago. Our Asset Based Distribution® model of vertical integration combines the traditional benefits of distribution with the scope of a manufacturer, creating a unique blend of services for our customers. Once complete, the new mill will dive a level deeper into our cost structure as we continue our crusade against inefficiencies in the supply chain. Having these facilities, along with private ownership and a strong balance sheet, allows us to deliver customer first service and flexibility - which I'm certain will pay dividends to our clients, our community, and our company for years to come."