Steel Market Update
December and January saw little slowing down in the freight train that has been steel prices. Domestic Hot Rolled Coil has blown past the $1,000/ton level last seen in 2008 and is now $1,140/ton.
The supply shortage due to low inventories and a slow re-start of fully integrated facilities in the U.S. is now also being supported by a tremendous increase in scrap pricing, up from around $300/ton in October to a current price of $497/ton.
The manufacturing side of the economy has shown little sign of slowing down moving into 2021, and the possibility of even greater demand from a federal infrastructure bill looms. Steel mills have continued to bring back capacity, utilization rates for the week of January 23rd were 75.7%, but are still 6.0% off the same week last year. Most thoughts point to a price inflection being reached in March, but how far back down steel will be dictated by multiple factors including Section 232 reversals, the passing of an infrastructure bill, and utilization rates among others.
We do think that at some point in the first quarter the market will find some equilibrium as a result of increasing steel production and a cessation of necessity purchasing. At that point we expect steel pricing to come correct, although not to the levels seen over the summer of 2020.
We are seeing forward prices pushing back towards the $800/ton in the summer, and lower into the mid $750s/ton into the fall.
OCTG & Line Pipe Market Update
The parabolic move of steel prices has started to be see in the pipe and tube world as well. Certain domestic mills have announced official price increases of $425/ton for OCTG, while the majority of mills have simply continuously increased their spot offers. Normally, official price announcements have been in the $75 to $150/ton range. Even during the pricing run up before Section 232 was limited to $300/ton. For pipe mills, this has been supported by the slow but steady climb of the rig count since August of 2020 coupled with the relatively low levels of inventory and import shipments. That does appear to be changing though.
Import and domestic shipments of product reached their highest level since May of 2020, which was the last orders placed before COVID effectively shut down most product flows. Preliminary shipments in January look to be continuing that trend. This will need to be the case moving forward or you could see pipe pricing move even higher.
Our January expected months' worth of inventory on the ground is 8.86, down from an average of 11.03 in Q4. Even a flat rig count of 370 and holding shipments steady would result in this inventory level dropping by .5-1.0 per month moving forward. With that being said, the increase in shipments will dampen the chances for runaway price increases, but we do see a floor being established for the next few months.
Tex-Isle Service Spotlight: Distribution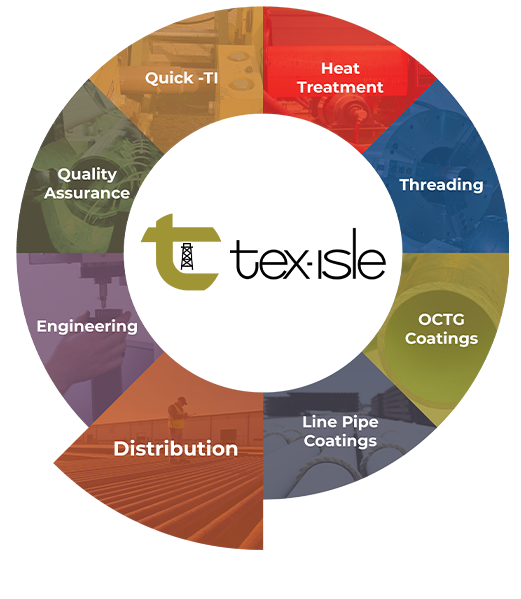 Tex-Isle has been a leading supplier of line pipe and OCTG to the Oil and Gas industry for the past 60 years. Our Asset Based Distribution® model includes manufacturing facilities, an integrated quality assurance program, and a data-driven supply chain.
An unmatched portfolio of manufacturing capabilities, distribution services, and engineering expertise. Tex-Isle's vertical integration provides customers the highest quality product at the most competitive cost. We offer a broad range of sizes, grades, connections, and coatings to meet any operational requirements.
Tex-Isle's strategic variety of services to meet the needs of our customers. We offer and operate an internal coating facility in George West, TX, and a Heat Treating and Threading facility in Robstown, TX.