Steel Market Update
To say that steel prices have been on a run the past few months is an understatement. Climbing from July lows around $440/ton, domestic hot rolled coil prices are now safely over $700/ton, with futures contracts for December over $750/ton. The 60% plus increase in the spot price can be attributed to mills struggling to meet a strong resurgence in demand as the economy has reopened.
Some steel producers deferred scheduled maintenance earlier in the year to conserve cash, and now temporarily shut down and are unable to cash in on the surging spot market. This restriction on supply has been coupled with strong demand from consumers who allowed inventory levels to fall over the summer, also to conserve cash, creating a run on spot demand.
While total steel production in the U.S. has continued to increase, utilization is currently 71.4%, it still lags the 78.8% rate seen at the same time last year. There are indications that more supply is coming back online in December which could provide relief. There is a current arbitrage in pricing between domestic and import prices for HRC of $91.20/ton which will entice some consumers to test what has been a lukewarm import market. This could present some relief particularly in sub-markets that have not seen prices recover at the same rate as base metals, like pipe.

OCTG & Line Pipe Market Update
Overall shipments are still a little more than half of their 2019 levels but are increasing across the board. The months of inventory based on current consumption that is on the ground has actually decreased for the past two months and should drop to more manageable levels over the next few months.
Given this, we believe that at the very least a price floor has been established, with the potential for solid price gains looming in 2021. Returning demand has enticed some domestic producers to restart idled facilities, and even add a second shift for some of the stronger players, in particular seamless manufacturers. Over the next few months, we expect imports to slowly return, but not in force until 2021. With that being said, changing supply chain priorities will most likely keep the market firmly in the control of domestic producers.
The most recent downturn has structurally altered the energy tubular market. There has been a reduction in the number and size of stocking distributors, a drying up of trading company credit, and finally a need to de-risk their own supply chains. Much like upstream and midstream companies, the pipe industry will have to learn how to live in a smaller, leaner industry.
LINE PIPE SHIPMENTS

OCTG SHIPMENTS

Tex-Isle Service Spotlight: Distribution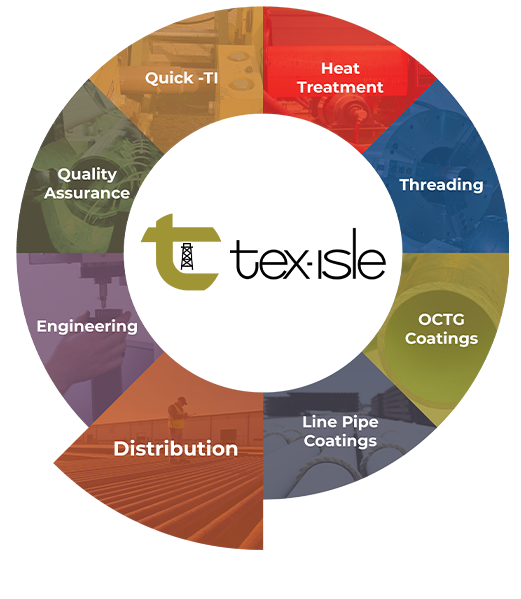 Tex-Isle has been a leading supplier of line pipe and OCTG to the Oil and Gas industry for the past 60 years. Our Asset Based Distribution® model includes manufacturing facilities, an integrated quality assurance program, and a data-driven supply chain.
An unmatched portfolio of manufacturing capabilities, distribution services, and engineering expertise. Tex-Isle's vertical integration provides customers the highest quality product at the most competitive cost. We offer a broad range of sizes, grades, connections, and coatings to meet any operational requirements.
Tex-Isle's strategic variety of services to meet the needs of our customers. We offer and operate an internal coating facility in George West, TX, and a Heat Treating and Threading facility in Robstown, TX.